The great duo in comic book history that is told to this day is of great BATMAN and ROBIN similarly there is forensic science and law enforcement agencies, well here there is less action and more tension, however, the supporting factor is the same for both cases.
Law enforcement agencies may find slight problems in the path of solving crimes and they need their robin oh sorry Forensic science. It is nothing but the application of science to criminal and civil laws, mainly—on the criminal side—during criminal investigation, as governed by the legal standards of admissible evidence and criminal procedure. Education is the ultimate solution for almost all existing problems in this universe from nanotechnology to big buildings or giant machines humans have come so far and education remains as a basic body for almost everything and due to this, there are a number of institution which provides in a different way, from different sources but eventually it is for amelioration for human species. Remember what Nelson Mandela aid, he said "The power of education extends beyond the development of skills we need for economic success. It can contribute to nation-building and reconciliation." hence combining all, this suggests that beating the drum for the introduction of forensic science in schools is imperative.
The topic of discussion will broadly focus on these interrogative words and they are WHY, WHAT, WHEN, and HOW. This is because whenever there is a scope on the arrival of any new thing in any area there will be questions and we all know that these questions start from these words so why not include this in the topic of discussion and move correspondingly to it.
Adding all these we get a young future generation as a repository of knowledge and hopefully, they will apply wherever necessary and will know in advance what step should be taken if any particular thing is related to crime. Evidence is given the uttermost importance in crime investigation and it is admissible in court, which is crucial in judicial decisions. Evidence is the available body of facts or information indicating whether a belief or proposition is true or valid. Imagine a situation where there is no involvement of shreds of evidence, horrible isn't it well, they can't disappear or destroy themselves, the specific term may be tampering the evidence in many ways broadly intentionally or unintentionally, let's discuss the latter before that just minus out lack of observing skills one possess why it is happening? The simple answer is not knowing about it for that you need to gain knowledge, for that you need to get that. The above-stated reasons are enough to confidently rejoinder the question regarding implementing the teaching of forensic science in schools. What needs to be studied first or taught first, smooth start with basics then gradually move forward with each step for example start with the basic terminology with the subject in hand, then to the section area. Indirectly this is for the improvement of the society so it should start slow but in a balanced manner. When? At what age students tend to attain that maturity when they start to differentiate between right or wrong in basic things and keeping that in mind, 11th and 12th grade is the most suitable for it. Involving forensic science as a subject not in the academic areas where this subject also decides their final percentile but as a subject where they learn and understand things personally without any distress of sitting on a chair for examination and if they ever become serious about then they can pursue when they are doing undergraduate. Setting the motion of anything in a nation needs a hand of official bodies and implementing forensic science as a subject in high school will need the help of official educational bodies in central and state provinces, for that first they themselves need to understand the whole scenario and by observing their positions they will move accordingly to it.
Without any further due let's iron out the bona fides of the topic in hand. Nowadays crime is like Trump's haters, it is increasing day by day and this dark shadow called crime is just becoming pollution which will eventually squeeze out the human society as it is a bolus. WHY we are in need of establishing forensic science in Indian schools? Is it because, India is in the list of countries by highest crime rates or Delhi being a union territory with a highest cognizable crime or THE GUARDIAN saying "India is the most dangerous country for women", here one thing for comprehension is that these are just problems and the most depraved factor is that humans were unable to cope out any solution to prevent and the irony is that the most basic quote everyone knows of is "prevention is better than cure". If a plant gets enough to add-ons on its earlier stages than it grows up to be a superstar in nature's industry Well, someone will criticize by saying it's a product of nepotism However what needs to understand is that if we aid the students with knowledge of forensic science in their earlier days, the period before their glorious college days then it will be beneficial for the students and country as a whole, this not only gain the knowledge but they can develop an inner curiosity in themselves, other thing is that if they spend their time in this then they will not get bored because they see all these crime chattel in the various source of entertainment and they will absorb this as off-topic.
In the end, it is clear we can only empower ourselves as a whole nation by creating a change and the change here is to educate the rising young population of India so that they can implement and use it for getting a bonus point in their life. Let's face it the forensics of India is not that developed indeed and the people coming onto the field do not have the prior knowledge of the field that they are getting into. Tony Robbins famously said that "By changing nothing, nothing changes" and people should expand their horizons and reflect this upon themselves. Remember "Life is either daring adventure".
 References
"The essentials of forensic medicine & toxicology by K.S.N Reddy
"Criminology" By Ram Ahuja
Author: Abhinav Salgunan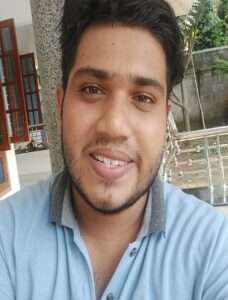 Abhinav Salgunan is like your boy next door, goes to Srinivas College of Medical science, Mangalore, pursuing a bachelor's in Forensic science, loves to hang out with friends, likes to read a book, a movie buff and huge admirer of Korean cinematic mind. Won several essays, screenplay writing, poem recital competition.
Disclaimer: This article has been published in Forensic Science Application, NVAFRCI, 1(11):2020